Course details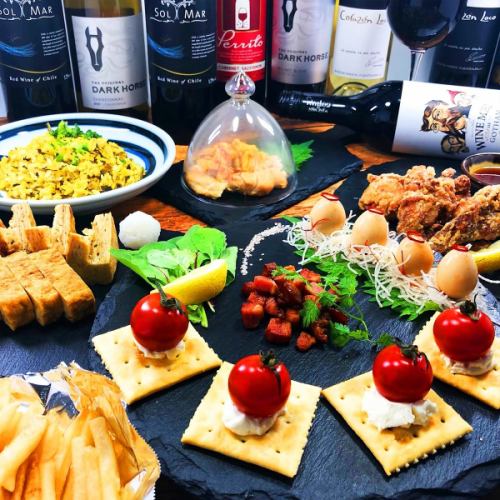 Homemade smoked three kinds of assorted ♪ "Smoked Pottery exhaustion" 3H drinking and drinking attachment 3500 → 8 thousand yen goods
By using a coupon3000 yen
The day before Friday, Saturday, and public holidays will be a two-hour system.Thank you for your understanding.
8items

2persons

~

All-you-can-drink available

All you can drink for 2 hours with beer, ♪ standard cocktail series, plum wine, shochu, soft drinks also ♪ (over 60 types)
What is your first smile, what kind of dish is it? It is a standard course for such customers.Of course, if you are interested, you can also order a single item.If you have smoked anxious ♪ Please join us ♪ Enjoy a notch party with various scenes ☆
Menu
It will be a banquet course with homemade smoked products as the main item.
If you have smoked food you want to eat, please consult us at the time of booking ♪
Smoked mass collection ♪ ~ Please enjoy the extreme of smoking ~
【1】 Egg smoked soup stock
【2】 smoked chicken salad refreshing citrus dressing
【3】 Assorted homemade smoked 3 kinds
【4】 thick natural cut potato fly smoked truffle salt
【5】 Chicken fried chicken Oriental smoked sauce
【6】 smoke chicken thistle & smugger cat
【7】 smoked cabbage fried rice
【8】 with vanilla ice smoked almond chips
※ The smoked ingredients are changed day by day.Details of the contents may change because we will offer the best smoked fish on that day.Please acknowledge.
※ Please contact us for details as we will contact you by phone.* We are also able to make phone calls (03-5969-9111) from the store with confirmation for customers who booked via the Internet.
All-you-can-drink menu
·beer
· Barley / Chandigafu / Cassisvia / Double Cultured
· Sour / High
· Oolong Hi / Green Tea High / Jasmine High / Grapefruit Sour / Lemon Sour / Kishu Umeboshi Sour / Lychee Sour / Pine Sour / Acerola Sour / Blue Apple Sour / Calpis Sour / Ramnaisau / Summer Mangan Sour
·Whisky
· Suntory Angle / Maker's Mark / High Ball / Ginger High Ball / Honey High Ball / Red (Acerola) High Ball / Yellow (Pine) High Ball / Blue (Lamune) High Ball / Green (Blue Apple) High Ball / Black ) High Ball / White (Calpis) High Ball / Orange (Natsu Mikan) High Ball
·Cocktail
· Gin Tonic / Jimbuck / Vodka Tonic / Screwdriver / Moscow Commu / Lambtonic / Cuba Libre
·Cocktail
· Cassis soda / cassis orange / cassis oolong / cassis milk / cassis milk / cassis grapefruit / peach oolong / fuzzy group / peach grape / lycheesa / lychee orange / lichi grape / calamilk / cal coke / malibu orange / maliboo coke / malibu milk
Shochu
· Black Kirishima (potato) / wheat flour (wheat)
·Sake
· Rice all over / Shochiku Meigumi
·wine
· Red glass / white glass / foam sparkling wine glass
·Soft drink
· Orange juice / grapefruit juice / Calpis water / cola / gingerjae / oolong tea / green tea / jasmine tea
Reservation deadline

Visit of hope the day before until 23:00
Available days for reservation

Monday - Sunday - Public holidays - Holidays
2018/09/30 update