Course details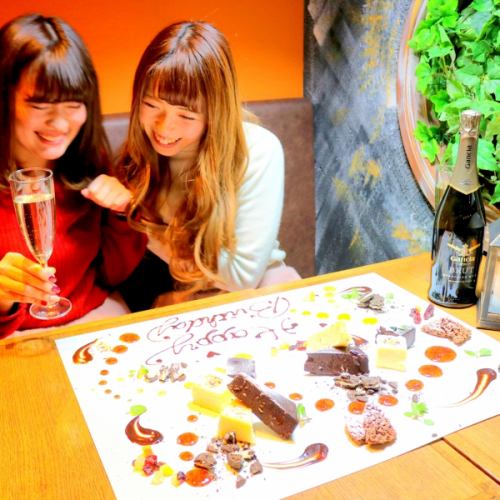 【Anniversary · Birthday】 Topics with table art! All 6 items 3h Drinking sparkling ★ 4000 → 3500 yen
3500 yen
Depending on the reservation situation in December it becomes a two-hour system.Please give your consent.
6items

3persons

-

All-you-can-drink available

All you can drink for 2 hours with beer, ♪ standard cocktail series, plum wine, shochu, soft drinks also ♪ (over 60 types)
It is an anniversary course with topic table art.Please do not hesitate to contact us with any message or timing
Course menu
It will be an anniversary course mainly with table art and home-made smoked products.
Message to write on table art Please also consult us at the time of reservation ♪
Smoked introductory book ~ Please enjoy the extreme of smoking ~
【1】 Cheers ♪ Sakura sparkling wine
【2】 Appetizer smoked 3 kinds of assorted
【3】 Fresh vegetable salad homemade dressing
【4】 Chicken fried chicken Oriental smoked sauce
【5】 Toro salmon carpaccio
【6】 celebration plate with table art ♪
※ The smoked ingredients are changed day by day.Details of the contents may change because we will offer the best smoked fish on that day.Please acknowledge it.
※ Please contact us for details as we will contact you by phone.* We are also able to make phone calls (03-5969-9111) from the store with confirmation for customers who booked via the Internet.
* It will be announced on a two-hour basis depending on the reservation situation in December.Sorry to trouble you, but please confirm with TEL.
All-you-can-drink menu
·beer
· Barley / Chandigafu / Cassisvia / Double Cultured
· Sour / High
· Oolong Hi / Green Tea High / Jasmine High / Grapefruit Sour / Lemon Sour / Kishu Umeboshi Sour / Lychee Sour / Pine Sour / Acerola Sour / Blue Apple Sour / Calpis Sour / Ramnaisau / Summer Mangan Sour
·whisky
· Suntory Angle / Maker's Mark / High Ball / Ginger High Ball / Honey High Ball / Red (Acerola) High Ball / Yellow (Pine) High Ball / Blue (Lamune) High Ball / Green (Blue Apple) High Ball / Black ) High Ball / White (Calpis) High Ball / Orange (Natsu Mikan) High Ball
·Cocktail
· Gin Tonic / Jimbuck / Vodka Tonic / Screwdriver / Moscow Commu / Lambtonic / Cuba Libre
·Cocktail
· Cassis soda / cassis orange / cassis oolong / cassis milk / cassis milk / cassis grapefruit / peach oolong / fuzzy group / peach grape / lycheesa / lychee orange / lichi grape / calamilk / cal coke / malibu orange / maliboo coke / malibu milk
· Shochu
· Black Kirishima (potato) / wheat flour (wheat)
·Sake
· Rice all over / Shochiku Meigumi
·wine
· Red glass / white glass / foam sparkling wine glass
·Soft drink
· Orange juice / grapefruit juice / Calpis water / cola / gingerjae / oolong tea / green tea / jasmine tea
Reservation deadline

Until 21 o'clock on the desired shopping day
Available days for reservation

Monday - Sunday - Public holidays - Holidays
2018/12/30 update