Course details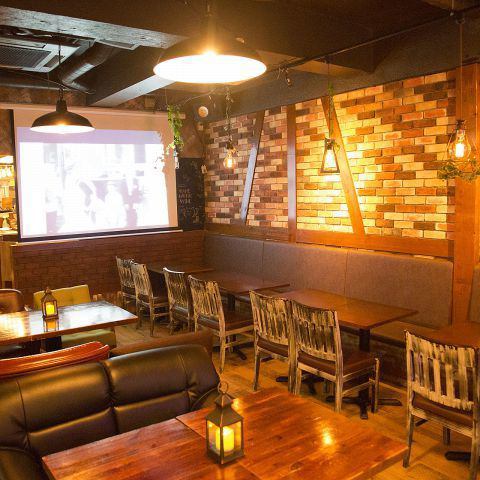 【Chart for lunch / daytime party ♪】 SP custom plan deciding with staff! People · Budget consult please ♪ → 0 yen
6persons

-

All-you-can-drink available

All you can drink for 2 hours with beer, ♪ standard cocktail series, plum wine, shochu, soft drinks also ♪ (over 60 types)
Our whole store plan ♪ You can use it at launch and wedding party hope only within a friend, mama party or farewell party.You can use it in various scenes such as a drinking party of a circle and a drinking party after a recital meeting.Please also consult the drinking party at midnight after 0 o'clock in the daytime outside business hours ♪ ♪
Course menu
There is no charge for charter or anything !!
♪ We can use banquet courses offered at our shop only for the number of people ♪
■ You can use the projector as you like ■
Will also shed kids' school society! Do not let the TV flow, well, let's sell the DVD of your favorite artists! Please do not hesitate to consult us.
■ Course custom is also OK according to budget ■
Please consult with me for cooking according to your budget!
I want the number of items anyway.Even if the number of items is small, we place importance on volume, full of meat, fish center, Wadashi · · I try best as much as possible!
■ Start time and end time ■
I want to do in the daytime, I want to do it in the late night! 2 hours, 3 hours, 4 hours ... Please contact us.
Anyway I would like to offer the best possible banquet meeting for the customer.I will wait for consultation by telephone so I will study hard.
All-you-can-drink menu
·beer
· Barley / Chandigafu / Cassisvia / Double Cultured
· Sour / High
· Oolong Hi / Green Tea High / Jasmine High / Grapefruit Sour / Lemon Sour / Kishu Umeboshi Sour / Lychee Sour / Pine Sour / Acerola Sour / Blue Apple Sour / Calpis Sour / Ramnaisau / Summer Mangan Sour
·whisky
· Suntory Angle / Maker's Mark / High Ball / Ginger High Ball / Honey High Ball / Red (Acerola) High Ball / Yellow (Pine) High Ball / Blue (Lamune) High Ball / Green (Blue Apple) High Ball / Black ) High Ball / White (Calpis) High Ball / Orange (Natsu Mikan) High Ball
·Cocktail
· Gin Tonic / Jimbuck / Vodka Tonic / Screwdriver / Moscow Commu / Lambtonic / Cuba Libre
·Cocktail
· Cassis soda / cassis orange / cassis oolong / cassis milk / cassis milk / cassis grapefruit / peach oolong / fuzzy group / peach grape / lycheesa / lychee orange / lichi grape / calamilk / cal coke / malibu orange / maliboo coke / malibu milk
· Shochu
· Black Kirishima (potato) / wheat flour (wheat)
·Sake
· Rice all over / Shochiku Meigumi
·wine
· Red glass / white glass / foam sparkling wine glass
·Soft drink
· Orange juice / grapefruit juice / Calpis water / cola / gingerjae / oolong tea / green tea / jasmine tea
Available days for reservation

Monday - Sunday - Public holidays - Holidays
Coupons that can be used with this course
2018/12/01 update